Mariners VP Fred Rivera, April Brown, MLB's Senior VP of Social Responsibility, and Deputy Seattle Mayor, Monisha Harrell
The following is taken from the Mariners' release on the All-Star Legacy recipients' announcement:
MLB AND THE SEATTLE MARINERS ANNOUNCE THE 2023 ALL-STAR LEGACY INITIATIVE TO MAKE LONG-TERM IMPACT ON SEATTLE COMMUNITY
Effort Will Support the Sustainable Growth of Youth Baseball & Softball and Support Historically Underserved Community College Students As They Complete Their Education
Since 1997, More Than $100 Million Has Been Contributed
To Host Communities through the All-Star Legacy Initiative
Seattle, WA – Major League Baseball, the Seattle Mariners, and the Mariners Care Foundation today announced the 2023 All-Star Legacy initiative, which seeks to have a long-term impact on the Greater Seattle community by addressing equity gaps in order to expand access to youth baseball and softball and supporting the needs of underserved community college students to help them complete their college programs. Through this special Midsummer Classic effort, MLB and the Mariners will together contribute more than $2 million toward field renovations, grants to local Nike RBI and other community baseball & softball league programs, building a workout and intramural league to connect middle school students with the sport, and providing funding and a facility refurbishment to a nonprofit offering degree attainment aid to local community college students.
"We are looking forward to making important contributions to the Seattle community together with the Mariners," said April Brown, Senior Vice President of Social Responsibility, Major League Baseball. "The All-Star Legacy Initiative delivers on our promise to make a difference in the lives of Seattle's youth for years to come. As a significant part of MLB All-Star Week, this initiative will celebrate these impactful projects and our local partners on one of Baseball's grandest stages."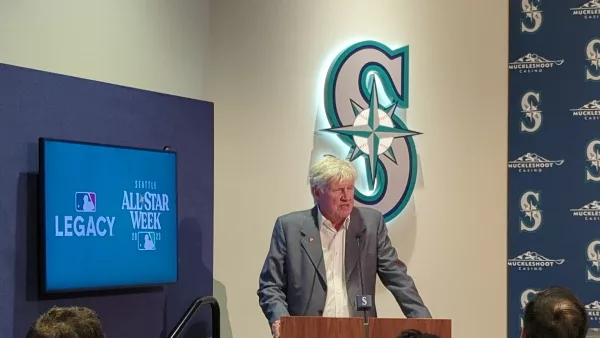 "We're proud to partner with Major League Baseball on the 2023 All-Star Legacy initiative. We are committed to long-term investment in a vision for barrier-free baseball and softball for youth in our community. We know that access to play baseball and softball helps deliver lifelong benefits and that providing resources for community members to pursue their dreams on and off the field helps support a vibrant and healthy hometown," said Fred Rivera, Seattle Mariners Executive Vice President.
Seattle Mayor Bruce Harrell said, "Hosting the 2023 All-Star Game this summer is an honor for the City of Seattle — not only because we are inviting thousands of baseball fans from around the globe to join us downtown for a week of fun, but also because of the ongoing and long-term legacy that investments made by Major League Baseball, the Seattle Mariners, and the Mariners Care Foundation will leave for our communities. We know that access to sports opens doors, inspires growth and mentorship, and builds healthy communities — and these legacy initiatives focused on equity and opportunity will benefit generations of Seattle kids, young people, and communities across our city."
The 2023 All-Star Legacy projects will be commemorated leading up to the 93rd MLB All-Star Game presented by Mastercard. Since 1997, MLB and host All-Star Clubs have donated more than $100 million through the All-Star Legacy initiative, which is a campaign under the MLB Together social responsibility platform. For more information, please visit MLBTogether.com.
2023 All-Star Legacy Projects
Field Renovation at Rainier Playfield – Major League Baseball, the Seattle Mariners, and the Mariners Care Foundation will renovate Rainier Playfield, adding turf to the infield of both the baseball and softball fields. The renovations will serve high school varsity softball teams as well as local youth leagues while increasing access to those most impacted by play equity barriers, specifically youth from diverse and low-income backgrounds. Additionally, the fields will be a space for skills clinics and middle school programming. The installation will be done in partnership with the City of Seattle Parks & Recreation Fields and will be the home field for the Rainier District Little League.
Access Innovation Fund – In order to remove barriers to play equity, an Access Innovation Fund will be established. The fund will focus on capacity building for organizations committed to youth baseball and softball equity and will also support the launch of a local Baseball and Softball Play Equity Youth Council, which will also be responsible for reviewing and approving grant applications for local Nike RBI or community league programs who are committed to providing barrier-free access to the sport. Partners will include the King County Play Equity Coalition and local Nike RBI or other community baseball and softball programs. Initial funding year will include grants for access programming for Nike RBI affiliates, Baseball Beyond Borders in Washington, Friends of Baseball in Oregon, and Gamers Alaska.
H9 League – This All-Star Legacy effort will work to build and restore the pipeline to high school baseball and softball through the H9 league, a workout and intramural league engaging middle school age students to play ball in their "backyard." This new program will be an extension of the Mariners "Hometown Nine Program." The community investment will include uniform and gear grants to H9 pilot league operators. Additionally, the legacy investment will include an operator partnership agreement including branding and league structure. The league would aim to address what is known as the "middle school cliff," where there is a decline in youth participation in baseball and softball beginning at age nine through 12. Operators who register would affiliate with parks district community centers, local Boys & Girls Clubs, or middle schools in the surrounding area.
Community College Degree Attainment Aid & Resource Hubs – This All-Star Legacy partnership will provide aid to local community college students at Shoreline College through United Way of King County's "Bridge To Finish" program and a scholarship program through Seattle Colleges Foundation Bridge to Finish provides thousands of students through the Benefits Hub/Food Pantry with emergency aid funding, meals, transportation, and/or housing assistance to remove barriers to degree attainment. The previously established program has grown from four community colleges during its pilot launch in 2017 and 2018, to 10 colleges presently. According to program statistics, 76% of recipients identify as students of color, and 42% are parents. The Legacy investment will provide funding for a Benefits Hub refurbishment at Shoreline College, provide emergency aid funding to Bridge to Finish and establish a scholarship program with the Seattle Colleges Foundation that will provide meaningful financial support to help students overcome financial challenges that would cause them to drop out of course studies. Partners of the legacy initiative investment will include the United Way of King County and the Seattle Colleges Foundation.
The All-Star Legacy initiative – which also includes support of MLB national partners Jackie Robinson Foundation, Boys & Girls Clubs of America, and Stand Up To Cancer – will complement a full scope of All-Star Week community, youth and diversity & inclusion-focused programs and events that will be announced at a later date. Additional efforts will be inclusive of supporting military families, celebrating children with special needs, and positive environmental sustainability practices.