Footlong Dungeness crab rolls and "tripleta" sandwiches with brisket, pork and ham are among the items in the Pacific Northwest All-Star menu
You can hear more from the HBCU Swingman Classic players and coaches in this video:
You can see the Pacific Northwest All-Star food offerings in this video:
All-Star fans will find the 'flavors of the Pacific Northwest' highlighted in some treats specially created for the game.
The one item to which everyone seemed to gravitate is the footlong crab roll, which is true to its name, and you don't want to miss the beer and Cracker Jack ice cream, the special recipe salmon chowder from Ivar's, the fresh Willapa Bay oysters, or the crab pizza.  Mariners executive chef, Javier Rosa, tells Northwest Newsradio they didn't go small when it came to All-Star planning.  Chef Javier says among the food they ordered, "750 pounds of crab, oysters we buy around 800 dozen of oysters, let's say meat, we buy 750 pounds of tomahawk steaks, we have around 800 filet mignon."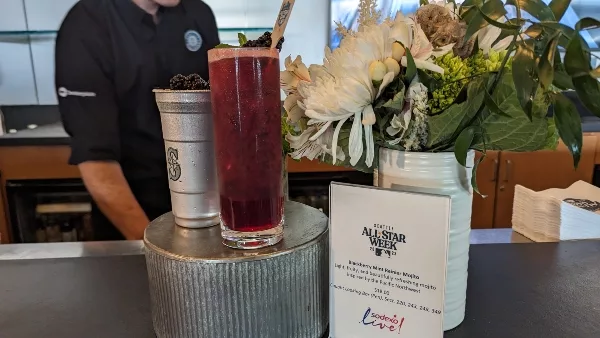 It's not just food but a special Northwest drink: the Blackberry Mint Rainier Mojito, with the berries and mint grown right here, muddled and poured by mixologist, Tim Woolley, who says it's a real treat at $18 a glass.  Woolley says a good choice "if you want something fresh, light, easy drinking, fresh, vibrant flavors."
It's a lot of rich and fancy food, but the M's team assures us that if you're a baseball traditionalist, there will still be plenty of hot dogs for sale.  M's president of baseball operations, Catie Griggs, says they're also keeping their value menu available because, Griggs says, they know people are buying expensive tickets to these events, so they want to make sure there are affordable options for everyone.
The food preview came on All-Star Friday, which includes a special game to highlight ballplayers from schools that don't get a lot of attention.
The HBCU Swingman Classic is all about giving the spotlight to talented players from historically black colleges and universities who wouldn't otherwise get that look from scouts or network cameras.
The event is sponsored by Mariners great, Ken Griffey, Junior, who's joined by his dad at this gathering of some of the best players from those schools.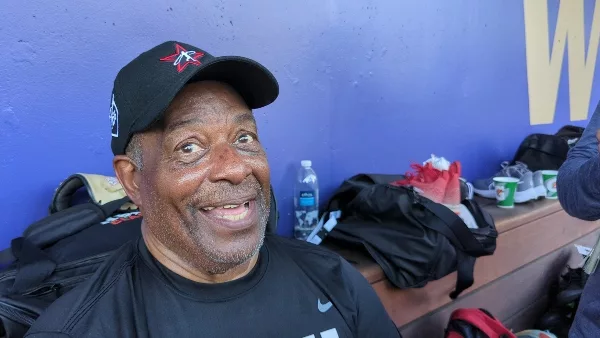 Another former Mariner, Harold Reynolds, says it's not just that historically black schools are overlooked.  Reynolds says, "What happens a lot of time in black communities, and particularly HBCUs, with where the game is now with analytics so driven of the game, they're not getting the data.  So they're not getting the spin rates, the exit velocities and all those things that so many front offices are valuing, so you gotta bring them to opportunities like this, where they can get on the same footing.  It's one thing to see a Vince Coleman.  It's another thing to be able to, now, put statistics and data to it."
One of the added values for the HBCU players is the long list of heavy-hitting baseball veterans who've taken on coaching roles for these young men.  Victor Figueroa, who's transferring from Mississippi Valley State to Florida Southwestern, says he's paying close attention to those coaches.  "Their mentality is what gets you to that next level," Figueroa says, "so everything they say about what they thought about before their games, after the games, before the season, after the season, how hard they worked to get to that point, I'm very much taking away from that and putting it into my game."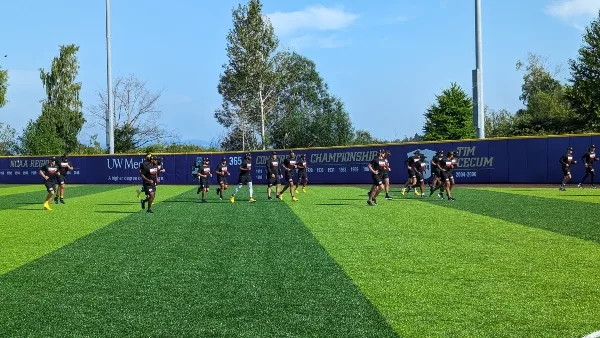 Figueroa and Hylan Hall, whose list of schools includes Washington State University, say the opportunity means the world to them.  Hall's message to young African-American players is that baseball is a fun sport with a lot of opportunities available.  "In the NFL draft, there's only two rounds; in the NBA draft, I think there's only 5 […]; in baseball there's 20.  You have more opportunity, so it's just numbers.  Baseball is a game where if you can get really good at it, it can help you for the rest of your life.  So, to you young black, African-American baseball players, trust me that baseball is the route you want to go.  Trust me."
After getting to play in a major league park in front of a national audience, you can bet you'll see some of these players enter the draft and likely make it to the pros.